We restore your product so that it functions like new, to help extend the life of your Allen-Bradley equipment.
Factory-authorized repair on Allen-Bradley and Reliance Electric products
Reductions in maintenance staff and spare parts inventory often lead to longer downtime and lost revenue when your automation assets need replacement. To help minimize downtime and keep production lines running, you need a reliable service provider that you can trust to deliver quality repairs when you need them.
Rockwell Automation® Remanufacturing™ and Exchange Services go far beyond other repair services with 15 remanufacturing and repair centers and eight exchange hubs around the globe. In fact, our remanufacturing facilities have received ISO 9001 and 14001 certifications for quality and environmental management, and OHSAS 18001 certification for occupational health and safety. 
Every Allen-Bradley® and Reliance Electric™ product we service undergoes our comprehensive remanufacturing process. All remanufactured units are tested using the same test equipment on which the products were originally produced.
Benefits:
Proprietary remanufacturing process restores your equipment to like new or better condition, extending equipment life and enhancing its performance
Improve your overall equipment effectiveness (OEE)
Stabilize your maintenance budget
Reduce your unplanned downtime and frequency of repairs (longer Mean-Time-Between-Failure)+
Improve speed to change (receive repaired products faster, minimize compatibility problems)
+ Rockwell Automation customer surveys have shown that Allen-Bradley products repaired by other companies can result in three times the failure rate compared to products remanufactured by Rockwell Automation.
Features:
Receive a comprehensive warranty on the entire unit, not just the replaced/repaired components
Proactive replacement of marginal or aged components
Only Rockwell Automation can provide genuine Allen-Bradley components
Includes firmware updates on your remanufactured products
Service levels and warranty vary by region.
Economy Services
Your unit is sent through our proprietary process and returned to you typically within 2-3 weeks of the product being received. The entire unit has a 12-month comprehensive warranty.
Standard Services
After your unit is received at our depot, an exchange unit will be dispatched within 24 hours via standard ground shipment. If no exchange unit is available, in most cases your unit will be remanufactured and shipped within 5 days.* All Standard transactions are expedited and prioritized to the front of our production schedule. The entire unit has an 18-month comprehensive warranty.
* Exceptions due to product type and lifecycle status
Priority Services
Obtain rush delivery of proactive replacement for exchange** from over 50,000 remanufactured Allen-Bradley catalog items inventoried at our global parts hubs. Return shipping costs are covered when the non-warranty unit is returned within 30 days.** The entire unit has a 24-month comprehensive warranty.
** For products that are not deemed heavyweight by shipping company
Delivering Quality in Every Step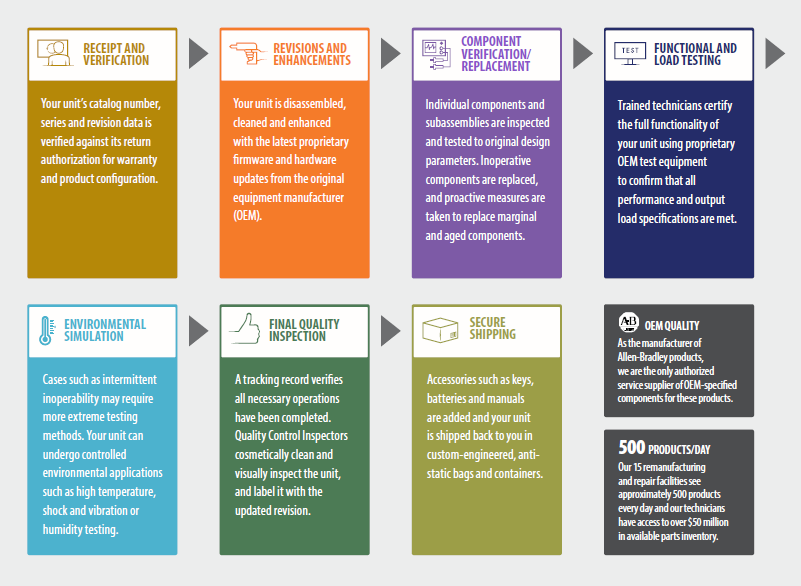 For a Free Quote or More Information, Contact Us!